Dental Implants in Stoke and Nelson
If you are looking to replace missing or damaged teeth, dental implants are an excellent option. They're the most natural looking restoration option and, unlike dentures, you don't remove them for cleanings, and you can still eat the foods you love. You take care of implants as you would your natural teeth and, to the untrained eye, they appear to be the teeth you were born with.
If missing or damaged teeth have left you feeling self-conscious, restoration through dental implants at
Fresh Dental
is the perfect option to give you back your confidence.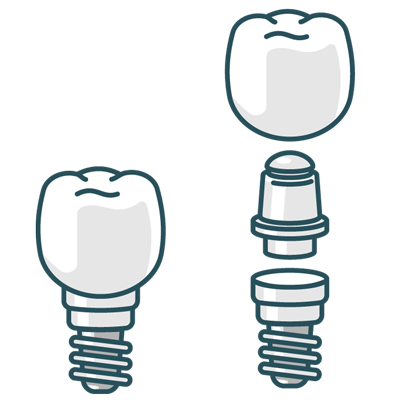 What Are Dental Implants?
Dental implants are titanium roots implanted into your jawbone beneath your gums. Once in place, they provide a solid foundation on which to place a crown that's made to match your natural teeth. Your dentist will determine if you're a candidate for implants.
During your initial consultation, X-rays are taken of the specific area of your mouth that will receive the implant. Your dentist uses the X-rays to determine whether the bone is strong enough to support the implant, and if there is enough room to place it in that region of your mouth. He will also discuss other options to replace missing teeth; the choice is yours.
The dentist will also go over your medical history with you. Since receiving a dental implant is a surgical procedure, he needs to assess if you are physically capable of handling the procedure, and if there are any allergies to medications. Before proceeding, he'll discuss costs, and then schedule a surgery date with you.
Am I a Good Candidate?
Most people are good candidates for dental implants. The patient should have healthy gums and adequate structure and bone size. Healthy gums sit around the implant, providing support and strength. If your gums aren't currently healthy, gum disease is easily treated with modern dental practices. You'll follow the recommendations of your dentist to correct the gum disease before implant surgery can be performed.
If you plan on replacing several teeth with dental implants, the remaining teeth will be extracted, and in a short amount of time, your gums will become healthy again.
Dental implants are embedded into the jawbone. There must be a sufficient amount of bone, and the bone must be strong enough to support the structure. If your X-rays reveal issues with the bone where your implant will be placed, there are special procedures to help rebuild the bone to the point it will support a dental implant.
If you aren't a good candidate for dental implants or need to make some alterations to improve your candidacy, your dentist will discuss all options with you during the initial consultation.
Frequently Asked Questions
With proper dental hygiene and
regular dental check-ups
, implants can last a lifetime, making it an excellent long-term option for smile restoration.
This is one of dental implant candidate's most common fears. Pain during implant surgery is minimal to none. Implant surgery is performed by making an incision in the gum, then embedding the implant into the jawbone using a screw. Afterwards, the incision in the gums is closed with stitches.
Take That First Step
Wondering how dental implants could restore your smile? Contact us today to book an appointment!
CONTACT US

Dental Implants Stoke, Nelson, Richmond NZ | 03 547 6799